I have to own up here – my birthday has always been in the October half term break. So I have a great fondness for Autumn. "Season of mists and mellow fruitfulness" as Keats described it. But it's so much more than that – the russet colours, the delight in sudden days of warmth and sunshine, the despair of early dark evenings (especially as the clocks always change to British Winter Time this week), reflections on Summer joys, anticipation of Christmas (what! already!!! – oh yes…). And so what are the delights and challenges of Autumn Training?
Autumn Training Challenge 1 – Cold
There are two things to be aware of when planning your Autumn training – falling temperatures and damp. Although the weather can be lovely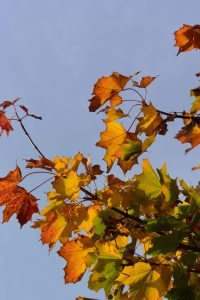 and sunny, as darkness falls the temperature drops quickly. This is often the time when you are heading off to class from your nice warm workplace, and it's even colder by the time you leave class. So prepare your outer layers to ensure that by the time you are on your way home your clothes are still keeping you warm.
Autumn Training Challenge 2 – Damp
What about the damp? Britain is famous for it's damp weather, not so much rain but atmospheric damp. It comes up from the ground, starting as dews and mists in the morning and sometimes staying foggy all day.  Damp is not just chilling but makes your joints feel stiff and tight, unwelcome after a summer of stretching. So whilst thorough warm-up helps, you need to be aware of your leg joints in particular.  Keep them warm and don't cool down too fast after training. Insulate with base layers if need be, or just cover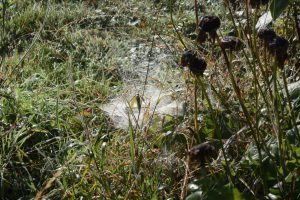 individual joints. You know if you have any particular weak spots, so look after them. Leg-warmers anyone?
But on the upside – it's cooled down!
So here we are training in halls that are no longer at a beyond-balmy 32°C and are starting at a lovely 15°C. This makes for a much more pleasant training environment for all our senses. We are mammals attempting to maintain homeostasis at 36.5°C – unless you have come from another planet in which case maybe we should include a separate question of "What is the ambient temperature of life-forms where you come from?"
Last call for pleasant outdoor training, maybe until April
Even though it has cooled down outside there are still some lovely sunny days for outdoor training. The combined glorious displays of the deciduous plants and warm sunshine are calling us for outdoor training before the short, dark days really set in. So last chance for some not-too challenging outdoor training.
What's on the menu?
Time to get out the slow cooker again and get going with warming food. It's time to prepare for the winter. So Chief Instructor Dennis Ngo falls back on warming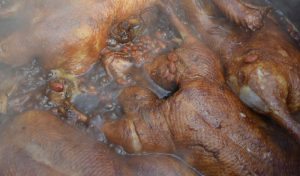 soup. Cooking soup with bones adds collagen – great for supporting the wear and tear of training joints. In general the Chinese do not traditionally eat cold vegetables – they are always at least lightly cooked. Add "heating" ingredients like chillies and ginger to counteract the cold and damp outside – if you like your salads you can very lightly stir-fry the leaves instead of eating them cold. At this time of year during training camps we are cooking dishes like hungarian goulash, chinese braised duck with chestnuts and red medlerberries, chicken curry noodles.
Try not to be SAD
If you find the dark evenings getting you down, then consider whether lighting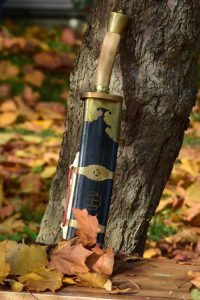 will help you. It's not hard to do the research. Personally we use a "dawn" light to simulate early daylight as the mornings get darker.  If you want to try, it's best to start before the depths of Winter, and not wait for the full effects of short days. Training in the evenings tends to keep the darkness at bay.
And what's just around the corner?
The Winter Holidays! Presents, roasted chestnuts, roaring log fires – and the Club Christmas Dinner. What more could you ask for?
As we say, "See you in class!"
Sharon Ngo – Instructor, Fujian White Crane Kung Fu & Tai Chi
All photos taken by Instructor Sharon Ngo in October 2016