Preparing Instructors for the Winter – Richard Wagstaff's version of events
Every September the FWC Instructors spend a week training at the Red Sea in Egypt.  Why?  Read on….
"So here we are at Gatwick, and what a very sensible time to be catching a plane at midday, none of the silly early morning flights. We're off to a good start.
Instructor training in Egypt, it's a time to relax in luxury, get some serious training in, swim in the sea and get some glorious sleeping done. Eight
hours a night is unheard of these days for those of us blessed with little bundles of joy waking at all hours. So it's a fantastic chance to catch up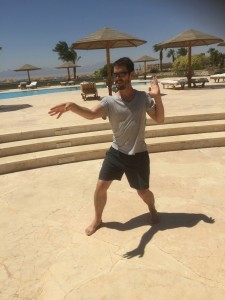 and recharge the batteries.
Wake up, breakfast, quick chat, training (patterns, patterns and more patterns), lunch, snorkelling (loads of fishes), training, dinner, stretching (whilst watching reruns of the 2011 Rugby World Cup and discussing the finer points of rucks, mauls and the marginal gains of the All Blacks' technologically developed jerseys), and then to sleep. Reload and repeat. That's the blueprint for Instructors in Egypt.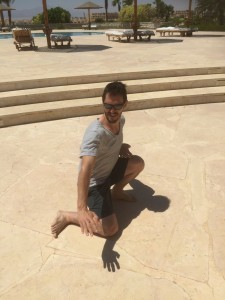 Oooh… and one day of pure release from it all. Who wants to go on a boat trip? Only the bold (apparently some Instructors' kryptonite is the sea and the sickness that it can bring to those with a delicate constitution). Well it was the calmest water you've ever known, more like a pond than a sea. After a couple of cold ones lounging on deck and enjoying the sun we set ourselves to catching lunch. Apparently it's not a good day for fishing… so even more impressive when one of our merry band bags herself a red snapper. However, one fish, five Instructors and two crew do not make for a nutritious and filling lunch. Thank goodness then for the crew who anticipated our lack of fishing skill and brought along a good catch of fresh fish from early that morning – and the salads… who thought vegetables and leaves could be made to taste so good?
After lunch a quick dip to visit The Seven Pillars Under The Sea. A magnificent naturally occurring spectacle – 20-metre columns of coral columns jutting up from the sea bed. Ah, so this is where the fish have been hiding. Beautiful multi coloured fish of all shapes and sizes, inquisitive little fellows they are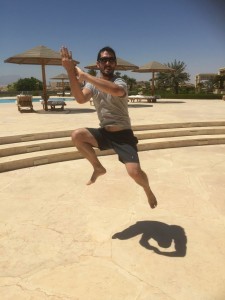 too, swimming right up to take a look at the foreign, cumbersome lumps swimming around in their world. Clown fish, trigger fish, lion fish, parrot fish, blue rays, box fish, stone fish, and an octopus, they're all here. I am still looking for the turtle I swam with last year but alas no luck this time.
Right, one day left and back to the serious task of training. Starting to feel tighter, the heat of the Egypt has now firmly penetrated the body and the muscles are moving better than ever. Working on rhythm, not rushing, fine tuning the shape of my movements, getting the focus right. It's extremely satisfying and I can feel my patterns coming alive. My obsessive-compulsive tendencies have kicked in, I must complete another set before it's time to leave… Now we can go, back home to Blighty, recharged, motivated and ready to push."
P.S. Do you train with Richard? Make sure you ask him which number jersey he wore on the pitch.