"Crete was brilliant. I'm not usually one for superlatives – I'm much more of a "well it was good, but…" type of person. However in this case it's appropriate for me to break character. My first Brilliant Crete camp, and that's definitely the right description.
Why did I go in the first place though? It wasn't complicated, I wanted a chance to improve my Kung Fu. And I already knew that spending a day in Dennis' field makes a difference, so I wanted to see what I could achieve in a week. It also earns me some "cool points" in life and that's always good. "Where were you last week?" "I was at a week long Kung Fu training camp in Crete, where were you?"
And what did I expect from the week?
Well that was a bit of an unknown – I had read previous club blogs and spoken to a few people who'd been before. The thing which came across mostly from those was that there was very little time for sleeping, and we would have to endure a punishing 7km run before dawn every day. But on the flip side the beach was lovely. So yes, that did put me off slightly – trepidation would have a been a good word to summarise my pre-trip feelings, but it turns out those feelings were way off the mark.
A Motley Crew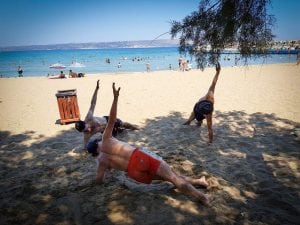 There were 18 of us this year – roughly typical I'm told – a varied bunch in terms of ages, backgrounds and abilities. The youngest was 15, and the eldest – well one doesn't really like to ask, but past retirement age. I got a chance to connect with them all in some way – over mealtimes, or in training breaks. Who would have thought I would spend a fascinating hour listening to a physicist talk about the papers he's published about how superconductors could be used to stop the Earth's atmosphere from burning off the planet in 12,000 years time. Or listen to a heated Brexit debate over dinner (ok, so that one I could perhaps have lived without – I should have turned around and played charades with the others instead).
The Schedule
However, the focus of the week, and the point of going of course, was to work on our kung fu. There was a set schedule – the same every day – as follows:
6am "the run"
7-8 breakfast
9-12 training on the beach
12-1 swim-time – i.e. messing around in the sea – or napping on the beach
1-2:30 lunch
2:30-5pm back to the apartments for more napping time (though a few of the super-keen added in some circuits here before they retired to bed)
5-7 training in the olive groves
8pm dinner
The Brilliant Crete Food
You might note there that there is some 5 hours assigned to eating every day, which I feel compares well with 6 hours of training. And that's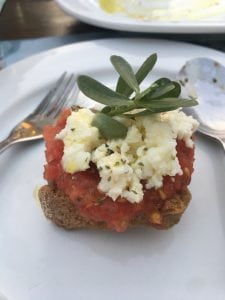 not even including the mid-morning fruit break. The food was consistently excellent – one place for breakfast (Greek yoghurt, honey, fruits, breads and coffee), a different restaurant for our lunches (right on the beach), and a different place further down the beach for our dinners. Every meal was different, and each had multiple courses – lots of choice and all of it very good indeed. And that's coming from someone who is really quite picky about food.
The um, Brilliant Crete Runs
So – the runs – they were actually ok. I'd even go so far as to say I enjoyed them (as much as anyone can enjoy running). It was warm not hot, and we didn't run fast. Instead we did all sorts of things to liven up the experience – run in a long line, and the person at the back sprints to the front, or the person at the front zig zags between the others to get to the back. Or we run backwards for a bit. And those who couldn't run, or didn't feel they could keep up – they did something different. So nobody should let the thought of the run put them off coming on this trip.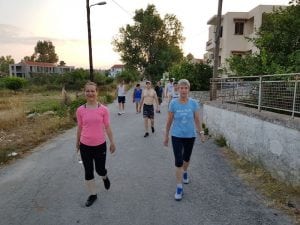 It's not the army.
The Brilliant Crete Kung Fu
While there were a lot of senior students in the group – a few on 13th pattern or above – there were also a good number who only knew one pattern. A whole week focussing on one pattern – you might think it could get boring – but you'd be wrong. For all of us it was a chance to listen to Dennis talk about how we should think and feel about our training, about attitude, about intelligence, integrity and strength. About honour and pride. About how Kung Fu isn't something you do, it's something integral to how you live your life. It all makes a lot more sense when you have time to listen, digest and ask questions about these big picture concepts, before going off and spending time on your patterns with a new mindset. And that works whether you know 16 patterns or one.
We spent a lot of time on applications of moves – working through patterns in pairs or informal groups, looking at what we thought we could use each move for, and how they work together in sequence. Getting it wrong, learning, getting it right (sometimes), checking with an Instructor, and realising there are many right answers (and many wrong ones). "It if works, then it's right, it not then it's wrong – or you're just doing it wrong".
Time flies…
There was never a moment during the training sessions where I was wondering what to do next – Dennis would bring us all together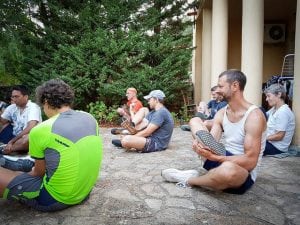 frequently to discuss what we were doing and how we were moving, and to give us overall corrections and pointers as to how to improve. So there was always a list in my head of the next things I wanted to practice. I was surprised how quickly the time went during training – from having got to the beach at 9am, all too soon it was Noon and Dennis gave the "go swim" directive. That was the moment each day when everything temporarily switches to "being on holiday with some friends, on a beach, in Crete". And when you've already completed a 7K run and done 3 hours training, with a good lunch and a nap to look forward to after, that's a good feeling.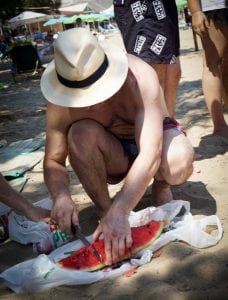 Inputs and Outputs
During the week our time was fairly regimented, in that we had specific things we were doing at specific times, but the feeling was very relaxed overall. We went there to train, but how much you get out of a trip like this depends entirely on how much you put into it – and that's really up to you. Various activities required both mental and physical effort, of course, but there was always time to relax in between.
It's always hard to judge your own progress when training, but I felt I'd gained a new level of understanding from the week, and my hope was that my patterns had improved too (both from that understanding, and also from the simple fact of spending so much more time practicing them than I ever manage at home). Since returning, I can tell how this trip has given my training a real boost – I'm back in class and raring to go, a little more experienced than I was last week.
Brilliant Crete?
I could use many words to summarise the trip – engaging, satisfying, tasty, but overall I'd also go with fun. A very enjoyable week getting to know a lot of different people, and working on my kung fu and my tan all at the same time.
So will I be back next year? Most certainly. Because, as I may have mentioned, Crete was brilliant."
Ben Hallifax – FWC London South
Thank you to Ben Hallifax, Odysseas Yiangou, Pavlo Mikheenko, and Instructor Sharon Ngo for the photos.