Dear Competition Diary – Preparations are underway
So with the competition coming up this weekend, Louis Beazley who trains in FWC London South with Instructor Richard Wagstaff, is preparing to meet his "friendly" rivals from across the Clubs.  Here is his competition diary as he maps his training on the way to the mats.
"06.04.18 – Dear Sparring Diary
That special date is fast approaching; FWC students from across the UK are training with their eyes on a particular prize, sweat drips, arms ache, knees bend (just a little lower).
On the 21stof April, as I am sure you have heard, the annual competition will take place, and I hope you're as excited as I am! I always enjoy training, I can be found sweating away with FWC London South throughout any given week, but it is in the lead up to the competition that my training reaches fever pitch. The competition is like a deadline and competitors have to be ready to show their best in front of the general public and the experts. Last year I won the Super Heavy Weight sparring competition. The gold medal hangs above my bed. It is the first gold I've won but there is space where it hangs for one more at least (if not a couple or a thousand).
I plan to keep you all up to date with my training for the sparring in the lead up to the competition and then I guess we can all see how successful it is.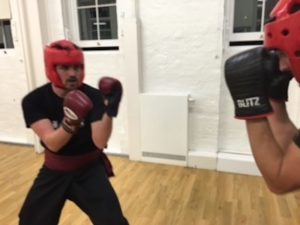 'How are you training for the sparring competition?' I hear you ask. Well let me share what I've been up to this week.
This week – I have trained at least two hours on every evening there has been a class (That is Monday, Tuesday, Wednesday and Friday). The combination of strength, flexibility, technique and stamina of a hard style class followed by an hour of practice sparring with other competition hopefuls is a great core around which to prepare for the big event. If I can manage I will go to the Suang Yang classes beforehand as well, three hours in an evening, that's good training!
I supplement my training with the addition of skipping (my hope is this will make me a little lighter on my feet in the competition) something which can only improve my chances. Whenever I walk past the punch bag in my garden I show it who's boss. I combine the above two exercises when I have the time sparring with my punch bag for a minute, then skipping for a minute and repeating this rotation for a total of 10 minutes (it's exhausting).
In many conversations about competition sparring with my instructor, former medallists and anyone else who will discuss it with me, one thing that is agreed is that you have to step into the ring knowing you can win, believing that you have what it takes. Stepping into a fight thinking "I can't do this" is the worst first step you can take, in sparring and also in pretty much everything else.
So, trust that you can win (because you can) and train to win (see below).
Here are some of my top tips for training over the next few days:
First and perhaps most important training strategy is to train as much as possible! The more you train the better you will feel on the day. Just in case you missed it every time your instructor has said it to you, the more you train the better you will be! This is true of sparring like everything else; you will be a lot less terrified if you've been practising. So practise, train, enjoy, repeat.
You know everyone else in your club? Spar with them! My sparring is improving because I am sparring with as many different people as possible (within the confines of the class, I am not sparring with strangers in a Tesco's car park). In sparring sessions I practice with as many people as are interested in giving sparring a try, and you can learn a little bit more about sparring when facing anyone. If you aren't sparring for some reason (can't think of a valid one) then watch other people sparring. Ask questions, "What are they doing that I am not?", "What happened there?" and most importantly, "How can I beat them?"
Sadly there are parts of the day where it is just not possible to spar with people. Don't worry though, when there is no one nearby you don't have to just sit quietly and twiddle your thumbs. As I mentioned above I supplement my training with lots of skipping (with a rope, not through fields of wheat). There's a reason professional boxers do it (and that it's suggested by FWC instructors). Not only will skipping increase your stamina (really, really important) it will also put a spring in your step! Essential if you're planning on running rings around your worthy foe. So dust off your old school skipping rope and hop to it! If skipping isn't for you no one is stopping you from jumping around punching things in your garden, or bedroom, or in a local park.
I hope you find some of this useful, but if you think you have better ideas you know where to find me, St. Francis Xavier College, 21stof April, make sure to bring your mouth guard!"
Looking forward to it Louis.