It is late November 2017 and a group of Instructors and Students gather once more in an airport to travel back to China for a week of soaking up the culture and training. Led by Chief Instructor Dennis Ngo our destination is Yongchun in Fujian Province – a visit to Mr Su Ying Han of the Yongchun Yi Yun Society. Mr Su and his family have trained in the White Crane System of Kung Fu since Mr Su was a young man over 60 years ago. But their traditions go back further than that. Amongst the group travelling was Instructor Crofton Black. And he took the opportunity to learn not only more Kung Fu but about the history and culture of this corner of South Eastern China – and why it is so famous for its fighting styles (including our own White Crane Kung Fu).
"We're lined up on a wooden walkway spanning several hundred yards of the Tung Ch'i river. The waters flow muddy beneath us. The banks are lined with banyan trees, their branches bearded with aerial roots. A kingfisher perches on a protruding rock and keeps an eye on the shoal of little fish carelessly congregating beside it. On the signal of Mr Su Ying Han we salute and step into the first pattern, San Zhan, keeping time as he chants commands.
A river runs through it
The river bisects the town of Yongchun –永春 – which translates as "eternal spring". The town is a couple of hours' drive north of Xiamen, a long-prominent trading post on the coast of Fujian province. In the seventeenth century, as European merchants and missionaries jostled for a slice of what China had to offer, Fujian was a tempting location. A Jesuit mission described it in 1626 as a garden where "Sciences and Letters are flowering in a wonderful way"; they praised the region as a business hub, "engaged in commerce with Japan, Manila, Malacca, Sumatra, and with the other Kingdoms of this Orient". Western traders brought elaborate gifts to oil the wheels of commerce: "self-sounding clocks", organs, an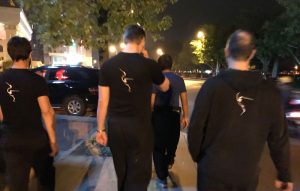 astrolabe, dancing wooden parrots and performing puppets. They did not know that the Ming Dynasty, and with it their plans for prosperity, was nearing its end.
Travellers described the province as extremely rich. Its natural resources included "musk, precious stones, quicksilver, silk, hempen-cloth, calico, steel, and all sorts of utensils wrought to the greatest perfection". And its litany of luxury imports – "cloves, cinnamon, pepper, sandal-wood, amber, coral" – signalled that it had money to spare. "Its mountains are covered with trees fit for building of ships," wrote one observer. "They have mines of lead and iron; 'tis supposed they have also gold and silver, but it is forbidden to dig for these under pain of death."
Fang Qi Niang – the Founder
A short drive outside the town, we ascend swiftly and soon are able to look back on Yongchun and its expanding highrise settlements. They sit nestled within a ring of hills hung aboutwith mist. Here, in the villages above the town, we are at the birthplace of Yongchun White Crane Martial Arts. A temple and museum commemorates the life of Fang Qi Niang, the system's founder, and her lineage, marked up in a complex diagram on the wall. Wooden screens portray martial artists in fighting poses, glass cases house a selection of old and rare-looking volumes and in one corner there is a selection of stone weights and an enormous, rather rusty, bladed weapon. Beyond the temple, a verdant vista spreads out over the hills and towards the horizon.
Protected by Rivers and Mountains
Fujian's wealth accumulated despite, or because of, the province's remoteness and inaccessibility. Fenced in by mountains, crisscrossed by rivers, its isolated valleys developed a great diversity of local subcultures. Access to the rest of China relied on difficult mountain passes. Perhaps this meant that the central government's writ was less extensive. At any rate, as one historian has put it, "here the traders could evade bureaucratic formalities and intricacies".
But as the Ming Dynasty collapsed, the region became a battleground. The local warlord Koxinga fought the invading Manchus from his military base near Xiamen. Ironically, given its relative independence from the central government, the province was to be the Ming Dynasty's last line of resistance. In the second half of the seventeenth century the inhabitants' access to the sea was cut off as the Manchus adopted a scorched-earth policy: coastal villages were burned, shipping was restricted and foreign trade banned. The days of cloves and coral were over. The days of emigrating populations and bandit uprisings were beginning.
Between Bandits and Warlords – Kung Fu flourishes
Yongchun was notably beset by the latter. In the nineteenth century the area was plagued by the Small Knives Association, "a grave matter," according to local officials. Government troops struggled to contain the bandits as rebellion spread. The local god, appearing in a dream, suggested that the villages form militias to defend themselves. The bandits, based in He Mountain, invaded Yongchun in 1853 and again in 1864. They also threatened alliance with the feared "hairy bandits" of Zhangzhou. The villagers overcame them only after years of protracted warfare, sieges and massacres. Unlike previous centuries in Fujian, it was not a good time for wooden parrots, organs or puppets. But it must have been a propitious period for the evolution of Kung Fu.
Back to the present day
Mr Su's  training hall lies a few hundred yards beyond the river, round the corner from a factory producing the town's renowned vinegar. Here – when not engaged in the dogged pursuit of tasty morsels, which occupies us quite a lot – we practise our patterns for six hours a day: initially San Zhan, which we perform on the wooden bridge, and then the more complex Shi San Bu Yao. Learning a new pattern comes with a rush of excitement, my brain overloaded with unaccustomed combinations and movements which, as yet, I understand only dimly or not at all.
Over the next days, as I gain familiarity with them, I can gradually settle into refining them, slowly perceiving a small portion of the intricacies encoded within the form. After six days it's time to leave, but the study can go on for ever, like the ancient logicians' paradox recorded in the Zhuangzi: "If a stick one foot long is cut in half every day, it will still have something left after ten thousand generations."
Musings on Music and the Art of War
One night we gather in Mr Su's house. As we drink tea together he sits under a painting of three cranes and plays the pipa, an ancient fretted lute. The notes strike me in surprising sequences, sometimes slow and deliberate, sometimes rushing past in an unexpected torrent. If their rhythm seems elusive it's probably because I can't perceive the form behind it. This is also a lesson in Kung Fu. "Amid the turmoil and tumult of battle, there may be seeming disorder and yet no real disorder at all," wrote Sun Tzu. "Amid confusion and chaos, your array may be without head or tail, yet it will be proof against defeat."
With thanks to Ben Hallifax (FWC London South) for the photos,