The April 2017 FWC Kung FU Competition was once again held in South London. Last year Femi Adeoye, who trains with Richard Wagstaff at FWC London South wrote up his account, So as not to disappoint his public, he has repeated the reportage for this year's event.  So here is Femi's blow-by-blow account from his very personal perspective – pun fully intended.
"Another year, another FWC club competition. I came into the day off the back of my relative success in the last competition, just over a year ago.  My aim for the day was to better my bronze and gold of 2016. The day started (oh so) early at 9am. After an inspirational performance by the instructors which saw them all displaying a different pattern simultaneously, the competition was officially underway.

Unlike last year, which saw me only enter the sparring, I competed in Ba Gua, an open hand pattern, and staff pattern. Leading up to the competition I knew that the patterns section in particular would be fiercely fought. Our club had excelled in our recent trip to the Open Invitational in China with 7 Golds, 7 Silvers and 3 Bronze medals. I walked off the mat after my Ba Gua performance instinctively feeling that I had not done enough to warrant a medalling position but resolved to brush it off and to not dwell. My open hand pattern was better (I thought), my staff pattern left me also feeling I had not given everything I could have. After a quick bite of Chief Instructor Dennis' barbeque, I was ready to at last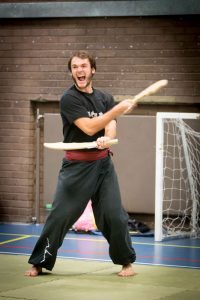 step onto the mat and start sparring.
Impatient to start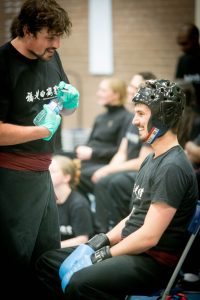 The lead up to the sparring felt very different this year. The constant nerves that characterised my first taste of competition sparring were gone. In their place was a restless impatience that had been building all day, to get the gloves on and taste combat! I'd studied the listings once they were up and spotted a few individuals I had faced last year. A lot had changed since 2016. I'd spent a week with the club at the annual Crete training camp, started training for the traditional Chinese Lion Dance and was now a Foundation Assistant. Similarly, I'm sure my competitors had also pushed on in their training and would be keen to not taste defeat at my hands for the second year in a row. After what seemed like an eternity, I was strapped up with my cup, gum shield, shin guards and gloves in place. It was at that point that the nerves decided to say hello: while I was facing my opponent, peering through my guard and those ridiculously heavy 16oz gloves, seeing him almost as a reflection in front of me.
Patience is better
I knew my first opponent well, and tried to capitalise on what I had identified as his weaknesses, using the wide expanse of the mat and picking my shots. Surprisingly, my semblance of a strategy paid off and I won my opening match. Despite my attempts to try and actually learn from my experience in 2016, and not let the potentially debilitating adrenaline overtake me, I was still feeling the effects of my first two 1 minute rounds when I was called up for my second match. "Be careful what you wish for" was probably an apt phrase at this point.  You see, my emotions had quickly shifted: from impatiently wishing time would speed up so I could finally start my matches to rueing the fact that my first match signalled a seemingly never ending carousel as I was moved from one mat to the other. I was apparently making healthy progress in both my own weight category and the open.
Lessons learned
One thing I've picked up on through sparring in consecutive years is that you're more aware of the hits you receive than the hits you make. On very few occasions was I sure that I had
dominated a round, all too conscious of the hits my opponent had landed (my stiff jaw in the days after was proof that these hits were not imagined).
Evenly matched
No personal account of the day would be complete without a mention of what was hands down, the most gruelling match I had that day. The semi-final of the open category against a fellow student and friend. During this fight, suffice to say I hit a wall, mentally. Rounds were extended to 2 minute sessions with a 1 minute break between rounds. For the first 3 rounds, we were both too evenly matched.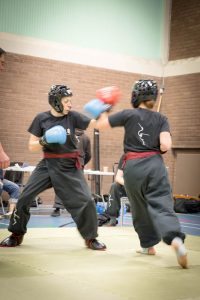 Each time I felt a resurgence and tapped into my quickly dwindling store of energy in a bid to finish the bout on top, he would do the same. Something really weird happened though. I was all but ready to call it a day, throw in the towel if you will. But just before the start of our 4th round, I sat in my chair, closed my eyes and focused. Suddenly, I knew that I was going to win. I can't explain it. I can only credit my training. I'm not calling myself Anthony Joshua (did you know he used to be called 'Femi' at school? I'm just saying…) but his recent display, his insistence of giving his all, snatching victory from the jaws of defeat, even when you seemingly have nothing left to give is something I can, in a small way relate to through this encounter.
Gold! Ouch! Gold! Ouch!
I went on to win the open and my weight category. With immense pride, I was able to collect two gold medals from Chief Instructor Dennis and Instructor Sharon. I spent the next three hours of the evening sat in Accident & Emergency with a suspected broken toe and a catalogue of other injuries. In the end, my injuries were confirmed to be less serious than I had initially thought and it was just soft tissue damage. But even then, it would have been all worth it.
I made sure I wore my medals to A&E as well, in case you were wondering."
Many thanks to Ben Hallifax for the photos of the day. Apologies for the layout on this page – too many photos to squeeze in! –  Ben has kindly agreed to open his Flickr folder – you can access it here: Ben's Flickr Folder – April 2017 FWC Competition