Women in Sport Week – is that about me, asked our women students?  Many young girls are only too happy to be involved in sports, dance, and martial arts. Somehow their zest for movement diminishes as they grow up. The reasons are various – studying hard, losing co-ordination during times of rapid growth, feeling self-conscious in sports/dance clothes. And then many young women come back to training when they are independent, finishing study and starting work. So what can Classical Chinese Martial Arts offer women and girls? Traditional Martial Arts are not sports as such – they are physical cultural arts, generally lacking the elements of competitiveness and teamwork. However they do involve significant physical training. They also offer self-defence, and often meditative practice of some kind akin to mindfulness.
At the Fujian White Crane Kung Fu & Tai Chi Club we have a strong representation of girls and women. Many classes have equally balanced male/female ratios. The emphasis of our training is
to strengthen the physique by acquiring skilled movements together with self-awareness and self-defence. Our uniform is designed for ease of movement and is neither tight-fitting nor revealing. Women and men wear the same uniform, and do the same training.
Fang Qi Niang – The Ultimate Contributor to Women in Sport Week?
Fang Qi Niang was a woman in China who is recognised as the founder of the White Crane System of Chinese Martial Arts. Our Club's teachings relate back to her foundation. There is an article on the influence of Fang Qi Niang for International Women's Day 2016 –  you can read it by following this link here.
So, Women in Sport Week – what about you?
It's not a question we usually ask ourselves but we asked the people who teach and train with us. Here are their answers. The Teenager, The Kung Fu Student and Mother, The Instructor, The Artist, The Scientist, and The Doctor.
The Teenager – Georgie
Georgie is 15 years old and she has trained with us from childhood. She has successfully gone through the transition from the children's to the adults' class. This is one of the most difficult transitions to make for women in sport.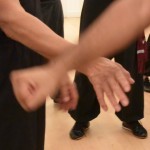 "I have been training with this club since the age of 9. As a teenage girl, there are not many students my age that continue training Kung Fu for this long but personally I aim to continue training for as long and as hard as I can.
Fujian White Crane Kung Fu has become a part of my life and takes a lot of hard work and dedication which for me, is a challenge that I love. I am always aiming to learn new movements and patterns in class which can be manipulated in different ways to both defend myself and perform this form of martial arts.
As a young person, I think that more young people should try something new and strive for the best that they can possibly do, and my recommendation is Fujian White Crane Kung Fu. I am always heartened and excited by watching younger children starting to train in children's classes and grading up until they are considered adults as I believe that learning this form is such an amazing opportunity.
Training as a teenager is a great time to learn Kung Fu, as you get to train alongside adults which, yes, can be a bit daunting, but you get to be treated like an adult instead of a child and you can excel. I love the challenge and I know that my training will help me get far in life."
The Kung Fu Student and Mother – Kitty
Kitty is an accomplished musician and mother of two young girls – all three of them train in Kung Fu with us: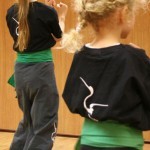 "Martial arts have always interested me, but I was too much of a scaredy-cat to try a class. That was until two children later, feeling sluggish and stagnant I decided enough was enough. I wanted something to expand me physically and mentally and Kung Fu ticked all the boxes. After four and a half years,I am officially addicted – so my Instructor informs me.
The extra bonus I had not considered in my Kung Fu practice was the positive affect on my confidence. Yes, we train all the muscles in our body, the attack sequences, the defensive moves, but we are also trained mentally. It's these different layers of mental training that have helped me a great deal.
I am bringing up two daughters in London and they both practise Kung Fu. Even though I sometimes have to shuffle two tired post-school children to class, I feel rested knowing that they are being taught the same physical and mental lessons that I am. They are being given the tools which I believe will help them in all areas of their lives."
The Instructor – Kerry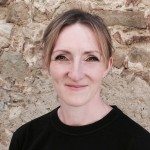 Instructor Kerry Schulz teaches the thriving classes at the City & Islington Children's Club. Kerry has three children ranging from Primary School age through to Secondary. How does she treat girls and boys in her class?:
"In my children's classes I don't think of my students as being girls or boys. They are young White Crane Stylists, competing to be the best they can be, not against each other. They are all treated the same, and the girls are easily as good as the boys. My own daughters are both regulars in class, and I think the training is very important in giving them the foundation of becoming well-balanced young women."
The Artist – Seti
Setareh Seto (we know her as Seti) is an experienced artist and animator. She has done much of the original drawn artwork on our website. Her annual Chinese New Year animal drawings are impatiently awaited at our Club celebrations. . As an artistic person, her comments on women in sport may not be what you expect.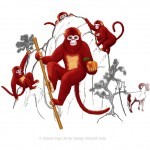 "In Fujian White Crane Kung Fu the combination of Art and Skill and Beauty, with movements taking inspiration from animals and nature, appeals to me enormously.
As an animator I spend a lot of time sitting in a chair trying to make drawings move. My Kung Fu training has given me a deep understanding of how the body works. This constantly feeds into my work. I can animate a character knowing what a particular movement actually feels like. And the training is a fantastic antidote to all that time spent sitting at a computer.
To be honest I was initially attracted to the idea that Kung Fu was a "masculine" thing to do, thinking that it would be a challenge to break into. But this Club isn't like that at all – plenty of women train and there is a fantastic egalitarian atmosphere. And although it wasn't as "macho" as I thought, I'm not disappointed."
Seti has been to China to compete in forms, winning Gold Medals in both Open Hand and Staff patterns – you can spot her on Youtube in the competition highlights video by clicking this link .
The Scientist – Anna
Although we have long known that Anna is a scientist working in the water industry, she only recently revealed to us that she could in fact be called "Dr Anna". Why has this been a secret? maybe to avoid being called into a medical emergency without a water-borne microbe in sight? Be that as it may, Anna had this to say about her Kung Fu training:
"Why does Kung Fu work for me? After a mind-mangling day at work, I yearn to relax. Sofa and TV? Pub? No! –  Kung Fu.
I need the feeling that my body is fit to work. This requires some form of exercise, but exercise with a purpose beyond the goal of simply exercising to be fit or healthy. Gyms bore me. Exercising while simultaneously learning to protect myself stimulates my mind, and keeps me striving to be better.
Concentrating on me, pushing my limbs, my mind relaxes. Quietly seeing if I can push myself a little faster than the person standing in a row next to me – he knows, smiling as we play our game. Over time, I have become better – both at pushing myself, and at controlling my limbs, building the intent and grace and precision needed for this Art. Smiling. And relaxing."
 The Doctor – Jill
Jill did not start training with us until already in her sixties – but that is not holding her back at all. Since beginning her training, Jill trains weekly. She has travelled with us to train all over the world, and has competed in Senior competitions in China. She gave a full account of her exploits to us earlier in the year and you can find out more at: Forget Stereotypes.  Jill trains to maintain her health, indeed to improve her long-term health and well-being.
The bottom line…
So the bottom line is, that although as purists, we may not consider Classical Chinese Martial Arts to come within the definition of "sport", we are in a sense the "Women in Sport" referred to in "Women in Sport Week". And having accepted that, what does our non-sport "Sport" mean to us? A great deal as it turns out.
See you in class.