"So, Vitruvian Man, we meet again…Time for tea?"
Welcome back to the FWC Cambridge Mug Challenge. It's challenging and it involves mugs. There seem to be a lot of scientists in this update, but such is the nature of the FWC Cambridge Club. Instructor Karim Daoud has been goading his students into ever more efforts both in their training and in using some ingenuity to meet these challenges (a link to the original list is here). 
After several months of collating entires and arduously checking the details, we present the current entries for the categories below.  There are still some coming in, which will feature in the next update.
Enjoy!
Category 1:
We have had two attempts at the "with a Nobel laureate" category.
First up are Dr Annette Brühl and Post-doctoral researcher, Nicole Horst with the closest they could manage:
"Professor Trevor W. Robbins is the Head of the Department of Psychology and the Director of the Behavioural and Clinical Neuroscience Institute at the University of Cambridge. Among his many accolades, he is a Fellow of the Royal Society, was appointed as a Commander of the Order of the British Empire in the 2012 New Year Honours List for services to medical research, and was awarded the prestigious Brain Prize in 2014. He has published over 750 full papers in scientific journals.
Here is a link to his Wikipedia page:Trevor Robbins
Here is a photo of him receiving the Brain Prize with HRH Crown Princess Mary of Denmark."
Judge's comments: I have to admit the the field of psychopharmacology sounds interesting, and so far this is a strong contender, though no Nobel prize yet….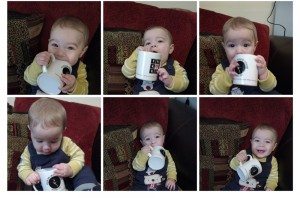 Next in the same category
is a fond parent.  Steph Unna is convinced that one day this baby will win a Nobel prize "no doubt about it!", so don't say we never told you so:
Judge's comments:  Afraid my crystal ball isn't working today, and Dr Who isn't answering my calls, so will revisit this entry in, say, half a century.  Setting a reminder now.
Category 9: "On the desk of Leonardo da Vinci"
Laura Biancalani was on a visit to the Da Vinci museum in Italy, and there was this desk, and she happened to have her mug with her, and they said she could take a photo, and so here it is:
Judge's comments: Does that look like a genuine 15th or 16th century desk to you?  I thought so. Whilst we wait for the chaps from the Antiques Roadshow to evaluate the provenance of the desk we might have to go with this one…
Category 4 and Category 10: Within the Arctic Circle, and In an Extreme Environment:
You see, when the Challenges were set, I though that Cambridge students would be up and down Everest, the Kalahari, Antarctica, Popocatepetl, and the like on a regular basis.  And where you trek you need tea (or coffee) and so the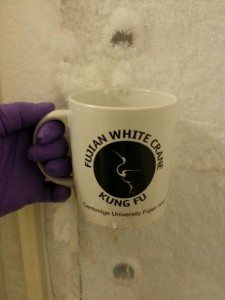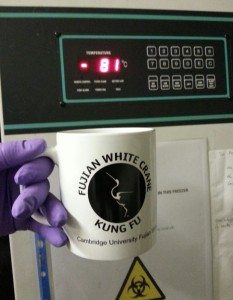 mugs would be with them.  However, it appears that this is not the Cambridge University view of an extreme environment.
Here is an entry from Alumna Dr Yevheniia Mikheenko, during an experiment which required cold storage (and a cup of tea): "A mug challenge entry for the category of "extreme environments" – the local version of the Arctic Circle at -81C (to be exact, -80.0 C at the time the photo was taken..). Alongside some interesting residents including 14 mutant strains of Hydrogenase-deregulated E.coli for enhanced bio-hydrogen production. And a whole zoo of bacteria that produce nanoparticles of precious metals for catalytic purposes (E. coli, Rhodobacter sphaericus, R. capsulatus, Desulfovibrio desulfuricans, D. fructosovorans, Bacillus species, some of them taken from very deep mines). Hence the biohazard sign."
Judge's comments: Well, this is certainly extreme, and meets the criteria of an environment, so until someone ascends Mount Nyiragongo and stops for a cup of tea, this is the lead entry for Category 10.  As it is not actually located within the Arctic Circle, Category 4 is still up for grabs.
Category 13: At the Furthest Point from 52.2052° N, 0.1081° E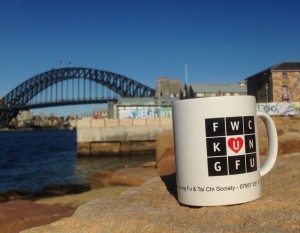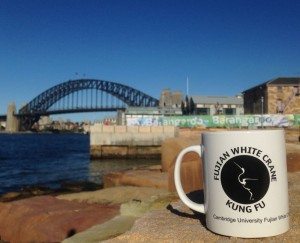 These photos were taken at Barangaroo, showing the Sydney Harbour Bridge.  The location is -33.852222° S, 151.210556 E°
According to the Judge's trusty distance calculator that gives a distance of 16,940 km, clearly the lead so far (after two entries from San Francisco, USA and Yong Chun, China). Once again the distance takes into account the spherical nature of the Earth, but ignores ellipsoidal effects (pedants everywhere).
Judge's comments: Impressive to be able to find a place so far, far away to take a humble FWC mug. I did hear a rumour that the person making the entry did not accompany the mug but sent it unaccompanied. The arbitrary rules are not clear on this point and I shall be calling a Steward's enquiry.
So that's it for now…
An entry on gravitational waves was submitted, but not for a specific category, so will be in the next update when the Judge has been told where to place it.  And something to do with Japan was rumoured.  In the meantime, keep it up FWC Cambridge!