FWC Cambridge Mugs travel all over the world
Well, this is one of those long-term challenges and the first entries are coming in.  I had thought that this would appeal to the adventurous spirit of the younger members in Cambridge, but they have been well and truly shown up so far.
I admit that some of the categories were a bit, well, challenging, but we just sent an astronaut to the International Space Station and someone could have slipped an FWC Cambridge mug into his luggage.  Come on you young people, show some initiative!
Category: On the playing surface of an internationally famous sporting venue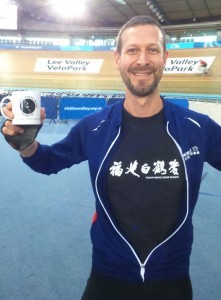 First out of the blocks was Lucas Oliver with this International Sporting Locations entry.  He went to the National Velodrome, scene of such thrilling gold medal wins at the 2012 Olympics.  Now the rules of the Challenge state "on the playing surface" and so I ummed and ahhhed over whether this one passed.  You see in my mind the playing surface of the Velodrome is the cycling track, and I don't think Lucas would have got out of there alive if he had cycled around with a mug.
Lucas' entry: "Please see the attached photo(s) which prove that I have taken the mug to an internationally famous (ref. London 2012) sporting arena. Furthermore, I am wearing my FWC training t-shirt. Karim says that the mug is not on the track, but I contend that it is slap-bang in the middle of it!
There is also a video attached. It shows me pulling off a strenuous and tactically aware over-taking manoeuvre (to the trained eye!). But as much as I can tell you that the whole experience was fun, exhilarating and physically demanding, the video just looks like "bloke going round a cycle track on a bike". Ah well, I know how it felt and that's what counts."
Sorry but we're not showing the video, partly because I can't work out which one is Lucas.  But as judge and jury on this one, I accept the entry in the category of "On the playing surface of an internationally famous sporting venue".  Anyone for any more?
Category: at the furthest point (using GPS coordinates) from 52.2052° N, 0.1081° E
In order to calculate the distances I used a website called moveable-type.co.uk.   For the pedants among you, they comment that, "All these formulæ are for calculations on the basis of a spherical earth (ignoring ellipsoidal effects) – which is accurate enough for most purposes… [In fact, the earth is very slightly ellipsoidal; using a spherical model gives errors typically up to 0.3%1.. ]"
This entry is from Scott Sartain who trains with Lucas at FWC Cambridge.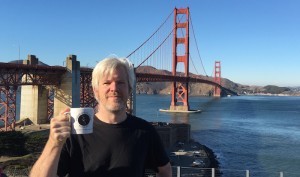 Here he is at the Golden Gate Bridge in San Francisco.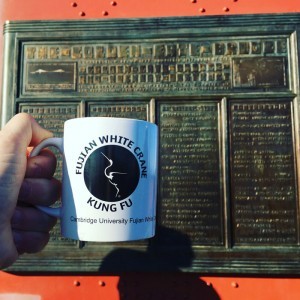 The GPS co-ordinates are 37.8197N 122.4786W, which gives us a distance of 8,569km .
Wonder who can beat that?
Well, actually it turns out that Scott has beaten himself with this one: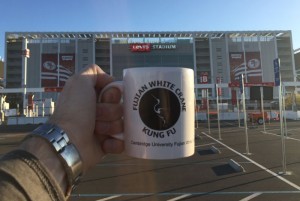 Here he is at the Levi's Stadium,in Santa Clara, California, which apparently hosts a football team called the 49ers.  Though it's not football as we usually know it.  Whereas Football is a gentleman's game played by ruffians, and Rugby is a ruffian's game played by gentlemen, what is American Football?
Anyway, GPS co-ordinates are 37.4030N 121.9700W which gives us a distance of 8,585km.
Late entry…
Just as I was about to wrap up this update, there was a surprise entry in the same category.  From the other side of the world, a ringer in the form of Mr Su Ying Han who mysteriously acquired a FWC Cambridge mug and is seen here flaunting it in his new training hall, in Yongchun, China.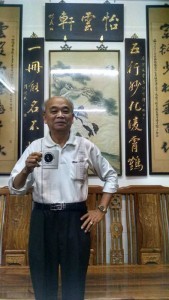 In the interests of fairness I have checked the GPS co-ordinates.  At 25.3228N 118.2903E the measured distance is 9,521km.  However, as Mr Su does not train at FWC Cambridge I have, regretfully, not been able to allow his entry.  Stewards enquiry?
So Scott is still in the lead on this one, for now.
And finally,…
Come on you youngsters  – get your entries in!