The Competing in China Saga continues.  We meet our narrator, Alex, waking up after a party….
"Tuesday
There are a few sore heads and no shows at breakfast after last night's birthday celebrations. A few of our group have to head home early – we have already lost Michael W on Monday and this morning we say our goodbyes to Rob, Lise and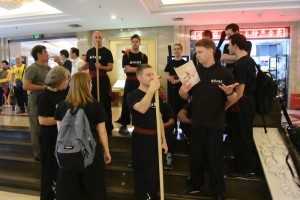 Isaac. We are now settling into a routine: training outside Mr Su Ying Han's apartment in the morning; back to the hotel for lunch; some time off in the afternoon for naps and laundry; back to Mr Su's for afternoon training; dinner, followed by evening training, this time in Mr Su's gym. The heatwave has now passed and we're experiencing more typical Yong Chun autumn weather. Training both outside and in the gym is a lot more pleasant as a result. During the morning Mr Su shows us some beautiful handmade thumbhook knives and a group of us jump at the chance to take some home to the UK. A good chunk of the afternoon training is taken up with photographs choreographed by an elderly local. No one seems to know whether he's actually a journalist or not but apparently he turns up, photographer in tow, every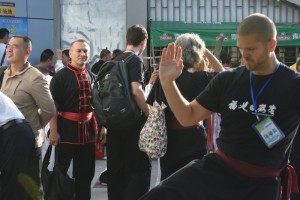 time members of the club are in town. We spend about an hour holding training poses rather than actually training – I've noticed that people just don't go in for natural photographs here.
The afternoon brings the news that the second competition we are participating in – the Wuzuquan – actually starts on Friday rather than Saturday. The downside is that we have one day fewer with Mr Su. The upside is that a few people with early flights home will now be able to participate. We head back to the hotel for dinner, timing it to coincide with today's big television news item. A major film about Wuzuquan is in the works and the director (who has in the past worked with Jackie Chan and other stars) will be sending his actors to Mr Su for training. We head to the gym for our evening training. Those of us new to Yong Chun have been practicing San Zhan all week but we are now all taught a two man pattern. The white crane festival was a lesson in how to really perform two man patterns well and so it's a real thrill to learn a really good one (here's hoping we might even be allowed to practise it in class when we get home?). There were plans to go for massages before bed but it turns out to be idle talk. After three sessions of training today, we're ready to go straight to bed.
Wednesday
Today is our last full day of training with Mr Su before we head to Quanzhou for the second competition. It's raining heavily so we head to the gym instead of the usual spot outside Mr Su's apartment. Mr Su has six pairs o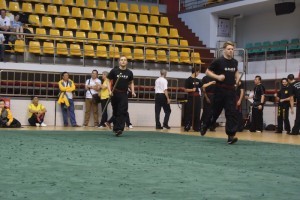 f thumbhook knives ready for collection. It's first come first served – the rest of us will have to wait. We arrange the paperwork needed to get them back into the UK (Sharon has delivered the news the the UK has heightened its airport security measures while we've been away). After lunch, a few of us go to a local shop to buy tea. The shopkeeper prepares some for us to sample. He sits at a wooden basin in front of us as he washes the tea set and then brews and pours the tea for us. His hands move very quickly and deftly through each step in the process and it's almost hypnotic to watch. We have come ready to barter but he seems well disposed to club members from previous trips and is very quick to offer discounts and freebies.
It rains on and off throughout the afternoon and evening – clear enough for us to have our afternoon training session outside, torrential during our evening slot. Fortunately the goodie bag from the first competition includes a crane branded umbrella and some rather fetching pink ponchos so we are fully armed for the walk home.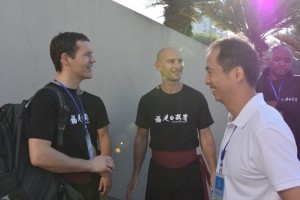 Thursday
We have a final morning training in Yong Chun and then set off on a one and a half hour minibus journey to Quanzhou for the second competition. Mr Su and his daughter, Su Jun Yu, are accompanying us so there is no need to say our goodbyes just yet. Our accommodation is the curiously named Quanzhou Overseas China Hotel – the rooms are smaller than our hotel in Yong Chun but this is more than compensated by the biggest hotel buffets I've ever seen. On arrival we learn that we will be doing all of our competing on Friday afternoon which leaves the weekend completely free. It means we don't have a lot of time to shake ourselves out of holiday mode and get ready to compete. We go to train in a local park before dinner, where we get locals staring and taking p
ictures at us (we are all very used to this by now). In the evening there is a welcome banquet in the hotel. There is assigned seating but everyone has cheerfully ignored it and by the time we arrive there are only a smattering of seats left. A few of us sit with a group of Americans, one of whom was a Hollywood fight choreographer in the 1980s – he entertains us with photographs and anecdotes about the various A-listers he has worked with. After dinner we go back to the park for another hour of training before getting an early night.
Friday
After breakfast we say goodbye to Amy, the latest to leave us, and then immediately turn our focus to competing. We head back to the park, which this morning is full of activity. A group of middle aged men and women are playing a lively game of jianzi (a Chinese game of keepy uppy with a shuttlecock). A local nursery school is giving the kids a runaround while a boom box alternately blares out the Yellow Rose of Texas and a drum and bass version of Flight of the Bumblebee. We break off from our training to watch a man perform a tai chi pattern. He is clearly in his sixties but he has the body of someone forty years younger. The pattern is a fascinating mixture of soft and hard – he moves very smoothly through his movements and then every so often explodes without warning into a punch or a kick.
We finish off our training and then head back to the hotel to get ready for the competition. It's a similar drill to last time. A coach comes to pick us up and takes us to a very large local stadium. Again there are two mats and two sets of judges, who march on in the same way and employ the same scoring system. However this time the competitors are two to a mat, which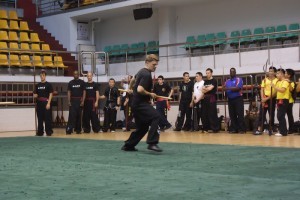 means that we are each vying with someone else for the judges' attention. The boys are the very first up on mat one, followed shortly after by the girls on mat two. Chris and Daniel are today's gold medalists. We then settle in to watch the rest of the afternoon – it's a relief to be able to just sit back and enjoy it with the stress of competing no longer hanging over our heads. Most of the competitors are Wuzuquan (Five Ancestor Fist) stylists but there are various other styles on display, the most memorable being a monkey style staff pattern. There are a number of teenage Shaolin monks competing as well. They are vocally supported by a large group of their peers in the stands, who shout football terrace style chants throughout the performance. Trappist monks these are not. After the performances have all finished we head back to the hotel for a celebratory whisky and dinner. Dennis and Chris have to summon the energy for a long meeting of the Wuzuquan fraternity. The rest of us can summon up just about enough to collapse into bed.
Saturday
Today is a day off. Werner leaves us to go back to London and we also say goodbye to Mr Su (but not before he hands out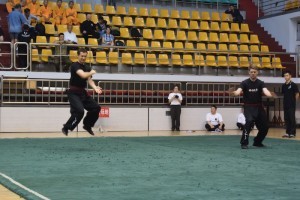 the daddy of all business cards – Member of the Chinese Wushu Association; Representative Inheritor of Fujian's Intangible Cultural Heritage; Practitioner of Chinese Medicine; Wushu 7th Duan; Wuzuquan 9th Duan; White Crane 9th Duan. That's pretty much just the first line.). We all have a bit of time to go shopping, get a coffee, and think back over the trip. One of our favourite dinner table conversations has been imagining what role we'd play in a kung fu movie. It seems pretty obvious that we'd be the bad guys. Westerners bearing arms on Chinese soil – tick. Dressed head to toe in black – tick. Triad salute – tick. Fighting patterns with killing moves – tick. If there's no Sunday blog you'll know we've got our comeuppance.
After lunch we go to watch the final afternoon of the competition – it is mainly the kids' and teenagers' categories but there are some very impressive performances. We spend most of our time being camera fodder for the local television news. After dinner we go back to the park to do a bit of training while some musicians play traditional Chinese music close by. It's a wonderful way to spend the evening and another chance to reflect on the training, the competition and how our kung fu has changed over the last few months.
Sunday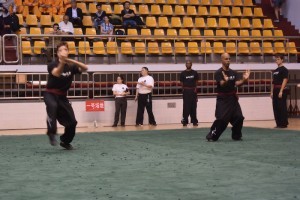 This morning the organisers of the competition have laid on a coach tour of some of the local sights. The first stop is the [評, (Kaiyuan)  a beautiful temple complex with expansive grounds. I could happily have got lost there for hours but we are given strict instructions to be back at the coach after 45 minutes. Next is the China Museum for Fujian-Taiwan Kinship, a large pyramid shaped building with an imposing entrance hall. Hanging in the hall is an enormous painting of a banyan tree. We learn that it is made by the Fujian-born artist Cai Guoqiang using – wait for it – gunpowder. We watch a video of the artist's assistants setting off explosives to make the painting – all I can say is that I hope he pays well.   Lastly, we are taken to the Southern Shaolin Temple, another very beautiful and peaceful site. There are lots of young monks around but I'm slightly disappointed that not a single one of them is running up and down the temple steps. The tour is scheduled to continue after lunch with a slightly uninspiring sounding trip to a local park – we decide to have the afternoon off for some training and naps.
In the evening the organisers have arranged a farewell dinner, with speeches, exchanges of gifts and impromptu patterns performances. Dennis is presented with a commemorative sword and Daniel does the club proud with a performance of his competition pattern. After dinner we all go out for a beer to celebrate our last night in China and give both Dennis and Chris gifts to show our enormous appreciation for everything they've done to make it such a success. Tomorrow we fly home."