Day 1 (or is it 2?) | Day 3 | Day 4 | Day 5 | Day 6 | Day 7 | Day 8 | Day 9 | Day 10 | Day 11 & 12
Day Zero
How many hours can we fit in a day? 30 hours after leaving home we haven't been to bed yet – well I haven't slept at all yet. The flight was heavily populated with Chinese grandparents who had taken their infant grandchildren on holiday.
Fuzhou dialect was dinning into my ears as I tried to read about logical and intuitive ways of learning. The Day 0/1 training session became a fog of sleep deprived amnesia. "Play your pattern and I'll have a look at it" said Mr Su with a smile – didn't check but I hope I didn't wipe it off. There was not much logic in it but perhaps my new "intuitive approach" paid off. May pluck up courage to ask tomorrow.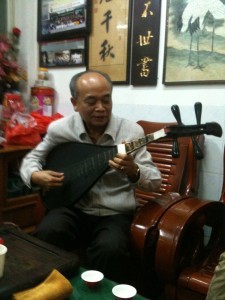 The evening was rounded off with an impromptu performance of live Pi Pa music. Expect to be more articulate tomorrow.
Day 1 (or is it 2?)
Back down memory lane for Chinese provincial hotel breakfast – rice porridge, peanut soup, fried devils, egg sponge and boiled eggs. How many of you remember this – quite a few I suspect.
The hotel has a wake-up service that sounds like Big Ben ringing outside your window. Thanks – one way to wake up in a Diamond Jubilee year.
So off to training.  The river Tao Qi is particularly fragrant as it is being dammed, dredged and refreshed. Will be back to normal soon.  Morning spent revisiting previously learnt patterns with refinements and corrections.  Note to self – have a work with Karim about the down-side of teaching "lower, lower" as main mode of communication. No-one translates "take a rest" even though it is a genuine training technique.
Lunch is another trip down memory lane – Geylang 20 years ago.  Eating street food of dumplings and noodles. Travellers' tip – find the largest chef with the largest spouse and try their food.  Has always worked for us, and usually results in some interesting background information in recipe preparation.  Makes a change from the Savoy Grill anyway.
Sleep attempts to grab my attention – jet lag feels less like a nap and more like a general anaesthetic…I think I counted to three but can't remember.  The Haier fridge/freezer convention downstairs has a sales pitch on a loop and my subconscious is busy translating it into English as my eyes refuse to open. You know your jet lag is bad when you wake up and can only see in black and white. Thanks for the Chinese Columbian coffee Chris – made it back for afternoon training.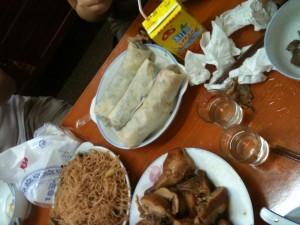 The afternoon session is the informal atmosphere of Su Ying Han's back yard training.  A committed rapidly forms on the benches to provide endless encouragement, disparagement, teasing and criticism washed down with tiny cups of tea and cigarettes for the committee members.  The younger students start a competition so see who can finish their staff pattern fastest but as they are doing it together Mr Su puts on his Health and Safety hat to slow things down.  Thankfully the river starts to flow again as evening comes and tiny white-eyed birds gather in the trees to hold a lively debate on the merits of the resident  loquats.
Invited to share a family dinner of special rolls – like spring rolls but not fried. Called Poh Pian in South East Asia and known as Chong Kun here.  Very tasty and healthy combination of vegetables, chopped nuts, garlic and family secret ingredients passed down from mother to daughter wrapped up in a rice pancake.  Delicious competitive eating  to see who can eat more than 3 – harder than it sounds.  Mr Su's son, Su Jun Yi offers bai jiu – rice alcohol. He brings out a couple of bottles and offers politely "would you like 50 proof or 57 proof".  Ummmm decisions, descisions – opt for less harmful jiu for medicinal reasons – lucky the glasses are so small.
Evening wraps up as extended family disperses around the apartment to follow conversations and do homework etc etc. And so to bed.
---
I think it's Day 3
Rain stopped play today. Arrived by the fragrant river training area to be greeted by a Komatsu digger and eau de vie, then down came warm tropical rain. Several rounds of tea didn't resolve the situation so we took a rain check and went for a walk through the town. We met an elderly gentleman doing some electrical work on a stage next to a temple. He had the customary fag hanging out of the side of his mouth and was surrounded by colourful props and scenery. "Oh is there going to be an opera performance?". "Dunno, you'll have to ask them next door. I just work here." Didn't want to spoil the surprise for us I suppose.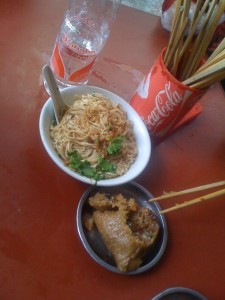 Our choice of street side lunch was less successful than yesterday and my fellow gourmets insisted on a second lunch at a more "authentic" street stall. After the afternoon nap/coma, it was off to a nearby temple for training.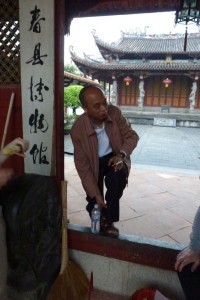 The temple has covered walkways which we can use to train whilst staying out of the rain. This really was memory lane – it was the temple where I took my Chinese Wushu 4th Dan grading. It has hardly changed and is beautifully preserved. The walkways are lined with poon sai trees (the traditional Chinese miniature trees in pots). Although it was lovely to listen to the singing birds flitting around it did cross my mind that they would be even nicer if they would stoop to eating the mosquitos. Is it the contemplative atmosphere or the huge pond of carp and turtles that makes the mossies so big?
I may have made a breakthrough in my training, as I managed to attract an insulting "You're supposed to move like the lady not the water buffalo in the pattern"….this makes a considerable leap forward from the usual "hmmm quite good, quite good". Why does it feel better to be insulted than to be damned with faint praise?
To stop the youngsters getting carried away with the gun, (wooden staves) and staging impromptu fights with regulation dented heads and squished fingers they were made to demonstrate to The Committee who provided valuable and direct feedback on their performances. Being a water buffalo is maybe par for the course then.
At the end of training came a lesson in tooth conditioning – sugar cane. Bite the rind off and chew the insides then spit out is a summary – I will in future have more respect for the way my dogs get to grips with a bone.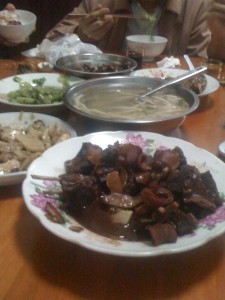 Evening meal was another family with everyone gathered around eating and chatting. I am sorry but I have to post an amendment to yesterday's blog – the bai jiu was in fact 58 proof and reappeared this evening. An impassioned debate took place over the costs of getting married, dowries, gifts etc etc and a comparison of the costs relative to where you come from. Is it worth it? Not for me to say really, but as with so many traditional customs it seems very easy to do the wrong thing and end up with a fight at the wedding.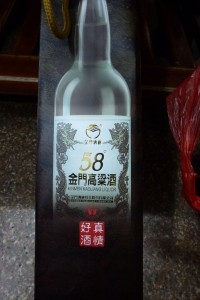 As I write I can confirm that the geezer with the fag didn't spoil the surprise at all – there is indeed an opera performance going on outside my window in the pouring rain. The enthusiasm of the artistes is undimmed, and whoever wired those lights and the sound system did a damned good job. Doesn't sound like Carmen – Turandot perhaps. Hope they're there tomorrow and that the rain holds off – I know just where to get a big bag of peanuts and a plastic chair. Magic!
---
Day 4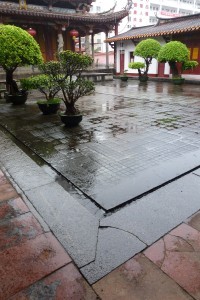 Into the steady routine stage of the trip. Like so many hotels in China the beds are as hard as a board and halfway through the night the pillows transform into bricks – good for the back perhaps, but sleeping on your side leaves bruises. After enough training finally achieved a full night's sleep.
Still raining steadily so off to the Temple for morning training. To avoid the water buffalo comments I am trying to connect to my inner lady, letting out little screams of concern as I tiptoe over puddles in my hiking boots. Might get a manicure if the rain doesn't let up so I can practise breaking a nail tomorrow.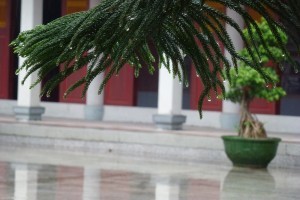 Tried a new place for lunch, but somehow still not up to the standard of our favourite place. Time to stop shopping around and just enjoy what we like. Afternoon training in hotel room taking turns and chanting "tiao, kun, sa".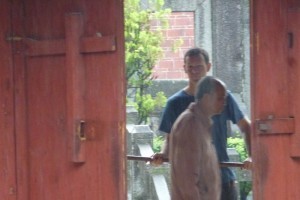 Day has been so lacking in excitement that decided to liven things up a bit by attempting to breach the defences of Madam Su's kitchen and try the manoeuvre "help with the washing up".

My attack was most effectively repelled according to the edicts of The Art of War and "the enemy did not penetrate the citadel". In keeping with my attempts at nourishing my Inner Lady, I attempted a graceful retreat trying to hide my discomposure, otherwise known as "running away with tail between legs".

I have been asked to make an honourable mention of the hong shao rou – red cooked pork Most delicious ever. Those of you who know the dish – you missed out!

I have heard that some of you are not enjoying the blog or missing the food or missing China at all – you know who you are and you know what to do about it.

Rest of evening spent on discussions of history of White Crane. But I'm sure you don't want to hear about that.

Walking back to the hotel we passed the street opera at full blast. Joyous colours and spirited performances, as the crowd sat on chairs they had brought or on their bicycles.

Thought the subtitles for the hard of hearing was a very inclusive gesture, but it was explained to me that it was because the opera was in a dialect that not everyone would know.
Also on the way back was a shop selling late night snacks – various cuts of meat available. We went for roast duck, intestines, and a delicious new snack of preserved eggs wrapped in duck skin. Might try the pig snout tomorrow. Good end to the day.
---
Day 5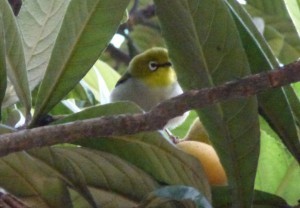 Well the sun has got his hat on! So riverside training today. After the recent rainfall, the water is much higher and there's no dredging. Air much better. The birds agree, and I saw yellow-streaked wagtails, white herons, and the little green white-eyes flitting about.
In the shallow parts of the river there are small wading birds like plovers. All in the midst of this bustling town.
Having managed to stay in touch with my inner lady, today I was told to subdue my tiger and bring out more crane. As you are no doubt aware, once the tiger is out of the cage getting it back in is no simple matter. Will have to persist.
Walking back through the town before lunch I had a good look around at how Yongchun has changed since the first time I came here.
The streets and shops are much cleaner and smarter, though the shops always seem to be empty (everyone must come out shopping when I'm not looking).
But there are still signs of the informal Chinese rural culture; shop assistants playing shuttlecock on the pavement, or playing Chinese chess.
Later in the afternoon whole families sit outside the family business eating dinner on little tables set up on the pavement. Wizened tiny ladies wearing triangular bamboo hats carry baskets of freshly picked vegetables on their shoulders with bamboo water carriers – testament to their continued existence in a peasant culture of thousands of years.
No doubt over the next few years some of these sights will disappear, but for now they hang on in increasingly modernised environments.
Have been hearing that some readers are disappointed that there is not enough info about what we are eating. This surprised me a little, but in an effort to please here goes:
Critique of breakfast; the rice porridge was up to its usual standard as was the noodle soup. Peanut soup was missing from the menu today, but the presumptuous little lotus seed cakes and the precocious fired fish were a delight. The normal accompaniments of nuts and fried vegetables didn't disappoint, but someone needs to show the cook how to boil an egg.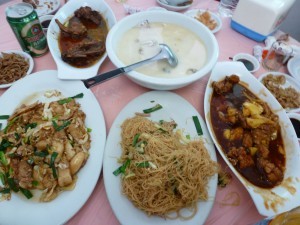 And so to lunch: the first surprise here was that the restaurant refused to serve us with rice – apparently no one eats it – mutters of "I never thought I'd have trouble getting rice in China". There was however rice available in the form of glutinous rice cakes and fried noodles.
Noteworthy were the goose cooked in sweet chilli, sour sweet pork with pineapple, and the cloudy fish head soup.
A house special was the "choke vegetables" – fresh greens fried in a tangle so that if you try to swallow one bit the rest tries to follow. Honourable mention for the fried dumplings.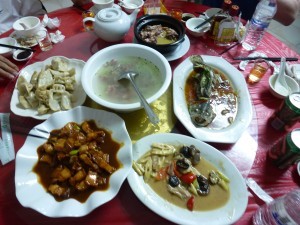 Now for the piece de resistance – dinner! It was our turn to treat, and we managed to lure three generations of the Su family to their favourite restaurant. Our menu and considered opinions are as follows:
– Fried sweet potato noodles – delicious
– Beef tendon soup – delicious and nutritious
– Bamboo shoots with intestines – delicious even when the "mushrooms" turned out to be bovine
– Rabbit with beancurd and dried oysters – double delicious with knobs on
– Enormous pork ribs in creamy sauce – see above
– Red Pork (hong shao rou) – now in view of the comments above, this one surprised by disappointing – just not up to the standard of Madam Su's
– Steamed grouper – back to delicious
– Fried dumplings – jolly good
– Oyster pancake – have never seen so many oysters on one plate – this was fantastically rich and so good it earned its own photo
There – I hope that satisfies your appetite for information.
Mr Su's dog is so pretty she gets two photos and awaits your fanmail.
---
Day 6
Woke up to the sound of a brass band coming down the road outside. This was a traditional Chinese funeral procession on its way to the temple. The music changed periodically to the gongs and drums. Sober beginning to the day. There were three black wedding cars covered with red rosettes and lucky symbols behind the walking procession that overtook it at the junction. Funny how life throws contrasts at you sometimes.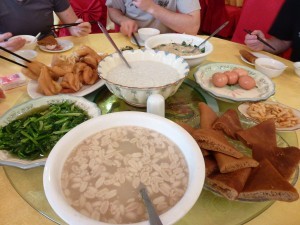 At breakfast the hotel was getting ready for a wedding – yards of pink netting, sequins, flowers on pillars, indoor fireworks, the lot. The waitresses were dressed in pink miniskirts and jackets, and were practising tying pink bows around their collars. Someone was planning on having the best day of her life – hope it all works out. Before we had finished breakfast the funeral procession came back the other way with the band playing "Home Sweet Home" – strangely appropriate.
Mr Su was busy with patients this morning, but spent time with us as well. One patient had jumped down 4m and broken his heel a week ago. The leg was bruised and purple up to his knee – it looked very painful but I was told not to show any emotion in my face as this is not helpful. After showing us the x-rays, Mr Su prescribed traditional herbal medicine to help clear the blood so that the body can get on with the job of healing the bone. He also advised the patient and his family on diet to help with his recovery. Mr Su is widely respected as a qualified practitioner of Traditional Chinese Medicine, and specialises in bone-setting.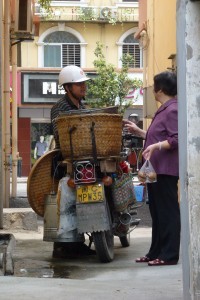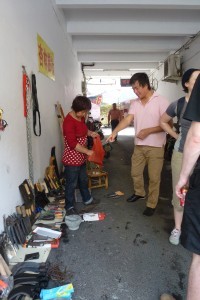 The heat has really turned up today and when a bicycle cart passed selling snacks Mr Su called him over. We ate fried meat pastries with chilli to "drive out the damp" in this humid climate. He also promised us a musical performance this evening – looking forward to an evening of culture.
After a brief detour to buy razor-sharp pig-sticking knives from a roadside stall, lunch marked a return to our favourite street food stall. Fried rice noodles, sweet potato noodles, braised noodles, and dumplings. Washed down with ice cold Sedrin beer. Tried to find the alcohol content on the beer bottle, but there isn't any, which perhaps explains the taste. First time we've used the aircon as the afternoon heat cranks up.
Thunder and lightning this afternoon but training by the river as usual. In advance of the evening entertainment we head off to the "no-rice" restaurant, bringing our own cooked rice (at their suggestion!). First dish up is a boiling bowl of soup. What's in it? Oxtail – sort of…sort of?…well it looks like a tail and it's part of an ox. Mmmm, very tasty and succulent, but where are the bones? There aren't any bones. Why not? For goodness' sake do we have to draw you a picture? Oh – er, um, well, goodness me it is tasty isn't it!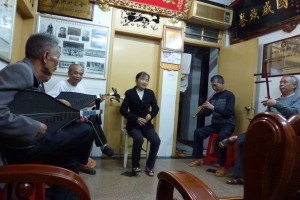 Off to the music soirée. Mr Su has a houseful of musicians and a singer. We settle down to listen to very traditional opera practice. The orchestra consists of two on pipa, one on dong xiao (vertical bamboo flute), san xian (three string snakeskin guitar), and er xian (two string vertical violin)The diminutive lady singer accompanies herself with a percussion instrument called a pai ze ( which translates as clackers). Takes some getting used to but becomes soothing after a while. No subtitles.
---
Day 7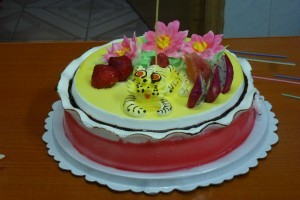 The days are becoming uneventfully routine. Breakfast – train – lunch – train – dinner – socialise – bed. Well that's how it started out. At lunchtime we said goodbye to Robin Hood and Maid Marian with a farewell cake.
Ever had a cream cake in China? Leaving aside the genuinely delicious Black Forest Gateau from the Lufthansa centre in Beijing, the other cream confections we have had in China for birthdays etc bear more resemblance to a Tempur pillow covered in shaving foam then painted by a frustrated artist of the Naive school. Today's confection had a tiger on it – the photo doesn't do justice to the colour.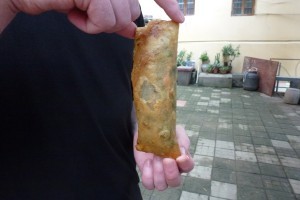 We tried a new snack this afternoon. Giant sized spring rolls which you eat with a handful of noodles. The spring rolls reminded us of Cornish pasties – they start with vegetables at one end, meat in the middle section, and rice at the other end. Not sure why you eat it with a handful of noodles, but it makes it less oily in the stomach.
This evening we went for a walkabout before dinner to see what the rest of Yongchun is like. Then popped in to make an evening social call on the Su family.
A young man had arrived with a broken bone in his hand. We were allowed to watch it being set, splinted, and bandaged. Then it will be unwrapped in a couple of weeks and rechecked.
Part of the process of resetting the bone is watching the expression on the patient's face – if successfully realigned much of the pain is relieved (and so is the patient's face!). "Can we ask him how he hurt his hand?". Mutter mutter (in dialect). "Playing basketball". "Really? He did that playing basketball?". Mutter mutter…."Well he was playing basketball and then a fight broke out.". Ahhh that's more like it. Not sure (can't follow the dialect) but he may have had a lecture on the importance of proper training before throwing a punch next time.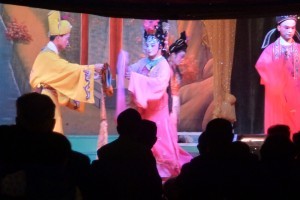 No surprises over dinner, though we've named ourselves the Three Musketeers (plus d'Artagnan). Bought a ping pong set to enliven the evenings and have set up a tournament over the tea table. Our ping pong Kung fu is not very good yet but from amount of laughter I don't think it really matters. Getting more exercise retrieving the balls from under the sofas. May have to seek some coaching – anyone remember Su father and son playing in Egypt?. As long as I have one of them on my side I should be ok.
---
Day 8
Another funeral procession woke us up – 5 brass bands, plus dancing drummers, and traditional orchestra. Someone was getting big send-off. We have been hearing the wake for the last few days. It costs a lot of money to die in style in China.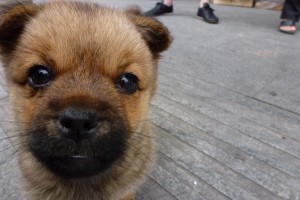 In case the day was going to be a quiet concentrated training one I took a few photos of a fluffy puppy to cover the lack of news. He/she is about the size of my shoe.
Being down in numbers to the Three Musketeers meant there is a lot more training space, and new things to learn. Excellent!
Tried a new restaurant for lunch – Hakka food. The lovely family running the place went through the menu with us "You can have beef, beef, beef, beef, or beef. What would you like?". "Erm, we'll have the beef".
So we had beef tendon, beef tongue, beef shin and beef soup. After a while they asked if we wanted vegetables. Yes please!
During lunch a knife seller walked past knocking a blade against his cart to attract attention. Dennis was out there like a shot to have a look at another selection of sharp implements. The seller was deaf and so bargaining was done by writing the price on the blade you want with a piece of chalk. If not acceptable it was rubbed out and a new price written down. Once agreed Dennis returned to the table with his new purchase only to be told off by the restaurant owners for paying so much.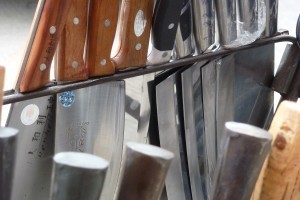 As it's Friday school finished early and the children joined in the training. The end of the session turned into power struggles over staves leading to tug-of-war and like games. The laughter and shouting brought out the neighbours onto their balconies to applaud the victors and laugh with the valiant losers.
Remember the dredging of the river? One reason for the bad smell was a dead rabbit stuck at the mouth of the drain. Has been shoved into the current and everything is fragrant again.
There was also a huge catfish caught in the counterflow which kept burying itself in the the mud then trying to swim back upstream. It seems to have eventually got away. Tried to get a photo but no luck, the water was too muddy.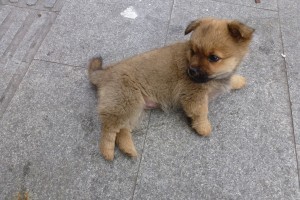 Dinner, chit-chat and bed. Going on an outing tomorrow so early start.
Hope you like the puppy – tomorrow should be quite scenic.
---
Day 9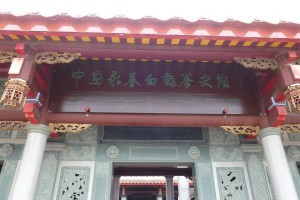 You see a day off from training is usually a chance to soften up tired muscles, and do a few chores. So when we said we wanted a day in the countryside and to do a bit of sightseeing, Mr Su said – don't worry I'll sort it out.
Perhaps we should have asked what he had in mind because his idea of a rest day is walking up mountains covered in temples, stopping periodically to admire the view.
So what did we see? Driving out of Yongchun we stopped next to a cleared building site with a small old temple at its far edge. This is where Fang Qi Niang's house used to be – it will soon be several blocks of flats. A cloud of sadness gathered.
Continuing on the car journey, we arrived up a mountain at a shrine to Fang Qi Niang with museum combined.
It was built by the government to compensate for the loss of her house.
The setting was up in the clear air, overlooking tea plantations, orange groves and banana trees. Large square out front for demonstration and training. I assume you would like to see some pictures, but I almost lost heart in taking them. Still sad.
Back to the cars, and the exercise starts. We arrive at a park dedicated to a famous local scholar, Kui Xing.
He came first in the Imperial Civil Service exams, and so was guaranteed a life in the service of the government. Sadly, he was so ugly that when he arrived at Court, one of the Emperor's wives dropped dead with fright.
He was promptly dispatched back to Yongchun. I was not able to find out what happened to him after that. There is a move in one of the patterns I have learnt which is named after him for one of his characteristic poses.
Half way up there is a temple where students come to burn pretend exam papers in the hope that they will achieve high marks. Didn't see anyone praying to look like their scholastic hero – hmmmm, interesting question: "would you rather look like your hero or get his exam marks?". For those of you of a delicate disposition I have taken his photo from a distance.
As this is a tourist destination signposts have helpfully been posted so you don't get lost.
Resulted in some interesting philosophical challenges and added to the meditational mood of the day. Haven't managed to find out what a "wind car" is never mind why it needs a yard.
Still sad.
To give our legs a rest we took a walk around the village where the Su family have their old family home. Although just on the very edges of the town, country life goes on in a little bubble. Pigs in styes, chickens running around, old and new buildings cheek by jowl, even a row of old-fashioned unmentionables. A few rice paddies and vegetables growing in every available piece of soil.
Lunch was pork, pork, pork, pork or pork. Had the meat, the blood, intestines, everything but the squeak. Cooked on the table in a boiling pot of pork stock, with the soup to finish. Spotted the "dog of the day" outside. He waited in the sun as the kitchen dropped scraps through the window to him. He looked like a German Shepherd which was an interesting coincidence as the restaurant was opposite Police HQ. Perhaps he's in deep cover.
Sent back for afternoon nap, then gather for training. Porthos was suffering from stomach issues and had to be left behind. Robin Hood texted to say arrived back safely but had severe stomach issues following a sandwich in Hong Kong. Sympathy all round – yeah right! So a diminished band of musketeers arrived expecting another outing only to be sent outside to train.
Everything hurting by now though not feeling steamrolled – high humidity and warm climate help. Knees didn't want to go lower, but Mr Su is not a Kung Fu Master for nothing. Out came a nice flexible cane. "Lower" was accompanied by a sound effect. The whoosh, whip, swish, whatever that noise is called was enough – was practically curtseying for the rest of the afternoon.
Still sad.
---
Day 10
Woken by torrential rain battering the canopy outside. Went on for hours. Everything damp and fresh at the riverside for training. Spent the morning taking constructive criticism (that is, being left to get on with it). Knees have given in to the cane, and exhortations of "lower" did not ring out today. Stance must be improving. Shoulders still not talking to me, and have characteristic bruise on left hip (Maid Marian knows what I mean). Managing to keep inner tiger at bay – constant effort.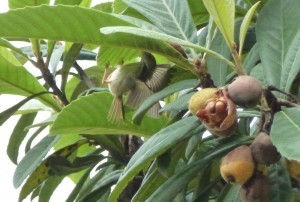 For the second time only in my life, I saw a kingfisher. It perched briefly on a drainage pipe, long enough to recognise its distinctive outline, then gone in a flash. Its plumage was very dark, glossy blue-black. Missed a photo, but I see it clearly in my mind's eye – better than a photo I can shut my eyes and see it any time.
Caught sight of a bird I have never seen before – large gull-like bird with brown body and white wings and head, bit like a heavy oyster-catcher in shape. So despite the amount of rubbish chucked into the river, and its uniform brown colour it has plenty of variety of bird life. Will get the bird books out when back home.
Talking of books, I had a look at a phrase book for Chinese travellers to English speaking countries. Here's a peek inside your world from the outside.
Ever used these phrases? Like the use of pinyin to provide a pronunciation guide – brilliant!
Confined to barracks this afternoon as d'Artagnan has succumbed to stomach issues. Porthos better, but Aramis sickening. Hope for an early resolution. Apparently there is something going around the town. No food to report. Feel sympathy coming on.
Late update – after visit to doctor all well now. The three musketeers will ride again!
---
Day 11
Well Day 11 was spent nursing the wounded. No training just rice porridge. Let's forget about it.
---
Day 12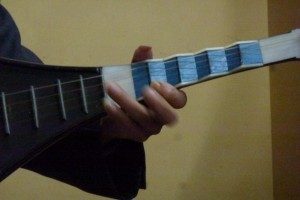 Last day before Day zero of travelling home.
All fit for training again so back to the riverside this morning. Weather is overcast and keeps threatening thunder and lightning. We are given our final briefings of what to work on. My inner lady is apparently flowing and the tiger is allowed to take the occasional peek.
Final shopping and admin tidied up then training in the afternoon. We have managed to lure the Su family out for another dinner which turns into an endurance test for those with continuing stomach issues.
12 or 15 courses later we leave en masse to say our goodbyes.
Looking forward to going home and getting back to my own training and classes. China never disappoints and the training has been thorough and knowledgeable.
We have been made most welcome and looked after in sickness and in health. The three musketeers will disband tomorrow when Aramis goes back to his home in China.
So see you all this weekend. What's the weather forecast?