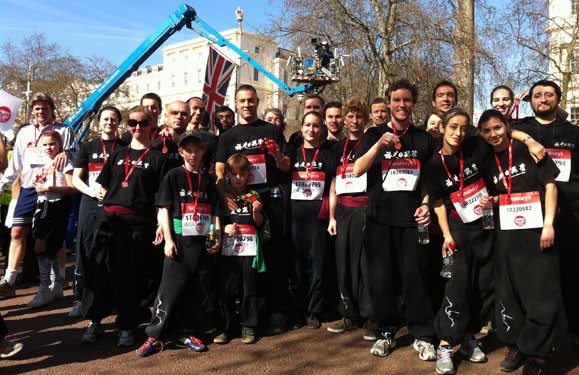 It was a chilly but bright morning in Westminster where the 30 strong
FWC team of all ages assembled. In full club uniform and running
numbers firmly affixed to t-shirts with safety pins (Instructor Dave
had an emergency supply) we made our way to the Mall.
Horse Guard's Parade was a bustling hive of Sport Relief runners and
supporters, some looking very serious in lycra running gear, others
dressed as less aerodynamic phone boxes. Pumping music coming out of
some very large speakers, the great crowd and lovely weather made for
a great atmosphere.
We made our way through the crowds, dropped our bags and after a short
wait headed to our group's starting pen, where some fitness
instructors got the crowd warmed up and ready to run.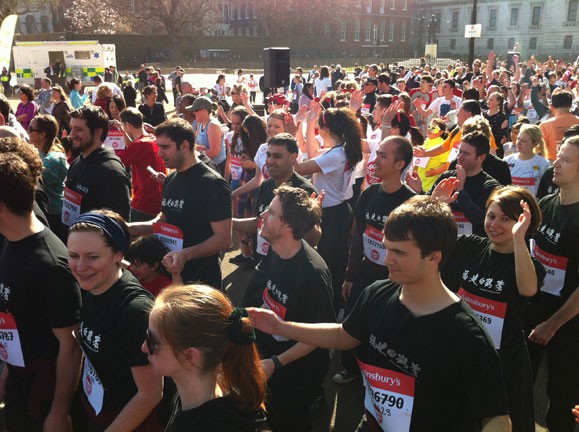 At 11:15 the start horn blasted and we were off! The black silhouette
of our group glided effortlessly through the crowds as we ran the
first leg up the Mall towards Buckingham Palace.
By the time we passed Buckingham Fountain and began the run back, we had already laid waste
to Super Mario, The Incredibles and several large bananas, all of whom
had started ahead of us. We crossed the finishing line with a time
well under 10 minutes and collected our much deserved medals.
The FWC team has currently raised a whopping £2200 for Sport Relief,
which is currently the 7th largest amount raised by a team entry. We
can be very proud of that!