Daily updates from the shores of the Red Sea!
Day 1 (13th December)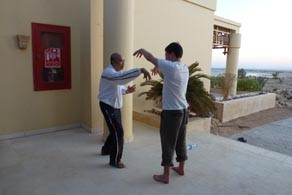 So here we are back in Egypt – though the scenery is more like a Sunday travel mag than National Geographic. We have quickly settled into the 3 unlimited meals per day with intervals of training. Messrs Su (Senior and Junior) are enjoying the sea and sunshine, demanding ever lower stances and clean movement.
We are in several groups learning different Yongchun White Crane patterns. As we get up from the dinner table after an endless buffet my legs are complaining that I've been using a slightly different walking stance. Well, if my stomach is going to have to learn to cope with all this food, my legs can jolly well learn to cope with a new stance.
---
Day 2 (14th December)
So why did we come here? I ask myself looking at a tranquil Red Sea with the sun rising across the bay. It is perfect training weather – warm and dry, sunny with a bit of breeze. Initially we train on the soft beach sand but Teacher Su decides that our feet are not working hard enough. Onto the marble slabs it is, to walk like birds and learn when to grip and when to let go.
The day's training is spent being more precise and also somehow more personal in our movement. "slow down", "just remember" are some of the mantras drilled into our brains. "If you can get hold of some double swords you can learn another form". A few frantic calls to Cairo may produce results- but we'll have to wait till tomorrow to find out.
---
Day 3 (15th December)
Today was so windy it was finally apparent why the palm trees have guy-ropes. We looked around for a place to train and had to settle for a small courtyard which still gave a sea-view. So with no real scenery to distract it was down to the serious business of getting power out. For those who couldn't manage it the verdict was "you've got money in your pocket but you don't know what to do with it". The wind should die down over the next day or so – perhaps we'll get our hands out of our pockets.
---
Day 4 (16th December)
Hands out of pockets day! Wind strength more of a steady breeze to make the sailors amongst us gaze out to sea – beautiful sailing weather. But it's back to training between meals (or should that be eating between training?). Anyway most delightful day's learning. Past the basic "what's the next move again? " and into "Oh, so that's what it's for!".
Enlightening demonstration of the interplay between traditional Chinese women's movements and Kung Fu. The initial giggles quickly replaced by yowls of pain as the "Mother grips the son's ear" move is used in "self defence". Teacher Su: "You don't need power (twist of thumb behind "son's" ear) – ha ha ha….."
---
Day 5 (17th December)
Real Winter sun today – breeze dying to nothing and sky an uncluttered blue. Our Chinese guests are completely at home here enjoying the warm dry climate as much as we are. Mr Su junior (an all-round sportsman) leads the field in the beginners at windsurfing – his balance is unsurpassed. Their enjoyment shines through their teaching – endless patience with the more junior students. An edge of frustration with the seniors begins to show as the sun goes down. "You have to be correct now! There is no point going home and practising incorrectly – it will be very hard to correct after that!". Our efforts will be redoubled.
---
Day 6 (18th December)
Penultimate day. Another fantastic weather day. Our stomachs are now self-regulating organisms and healthy eating reasserts itself – until lunchtime. After a few hours training with the prospect of 1 1/2 hours snorkelling one plate of lunch is not enough. Pasta, fish, (salad…shhhh!) and chocolate mousse goes down a treat – and yes we would all like the same.
Some watersports and but no nap later it's time for afternoon training. This included an extended photo session posing against the setting desert sun. But before that we spent some time perfecting our pronunciation of the patterns learnt this week. Sounds like a standard camp day but you'll have to ask those who are here for the tastier morsels.
---
Day 7 (19th December)
Going home day. With an afternoon flight ahead we squeezed in as much as possible – training, last minute photos, swimming, snorkelling, windsurfing – and a mega lunch. Over lunch are the formal exchanges of thanks and parting gifts. Pleased to go home but loathe to leave – sign of a great trip. On the bus now on the way to the airport – our cocoon of caring luxury and learning behind us and everyday life ahead. Oh well, that's the way it goes… still have the presents under the Christmas tree to look forward to. And roast goose, mince pies, Christmas pudding… not so bad after all. Season's Greetings 🙂